In this year's prestigious SHOP! France Awards (previously POPAI Awards Paris) we have two champions. There were nominated the Sensodyne Nourish shop-in-shop in the Health and Pharmaceuticals Category (cardboard POS) and the Christmas pallet display of Pilsner Urquell...
Sell olive oils by means of ecology and nature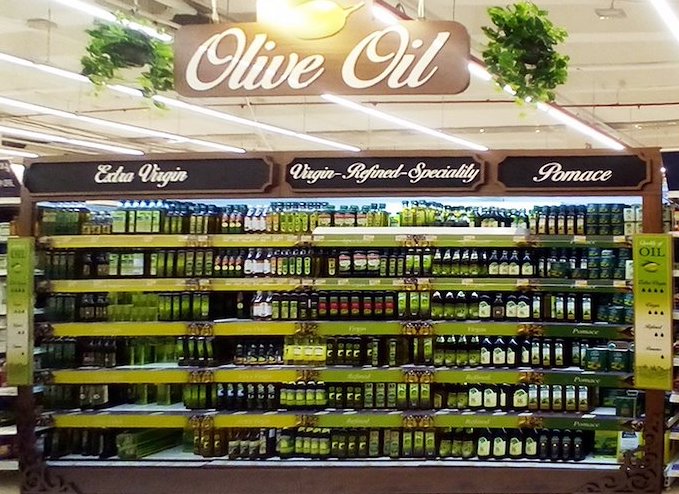 "A diet based on a large amount of olive oil is beneficial to the human body." It has been several years since this sentence spread throughout the world and olive oil experienced its boom. In stores, there was only one problem to solve – whether the oil is virgin, cold-pressed, or 100% natural.
However, this is not surprising, because there have been published several studies focusing on fats in food. The studies compared Mediterranean countries with other European countries and concluded that cardiovascular mortality is significantly lower in the Mediterranean – just because the typical diet in the Mediterranean consists mainly of fresh vegetables and fruits, legumes, fish, and olive oil.
During the coronavirus pandemic, the emphasis is again on a healthy lifestyle, and people are once again interested slightly more in their eating habits. Olive oil is regaining popularity. We have an inexhaustible amount of such goods available on the market, within which, I dare guess, no one can completely orientate themselves, so manufacturers need to highlight their products, promote them as much as possible, and thus make the choice easier for the end customer.
However, not only manufacturers should follow this. I would recommend this procedure to stores that can rebrand the entire category of olive oils and thus specialize the point-of-sale and facilitate orientation among products.
In terms of material, natural materials, such as wood or recyclable cardboard, are predestined for the category. A healthy lifestyle goes hand in hand with environmental responsibility, and thanks to the promotion of recyclability and sustainability, products on the market gain plus points from potential customers.
It will pay off to invest in POP materials promoting food, as food has always been priority number one for humans – and therefore for customers. And specifically, olive oils have a lot to offer to increase the likelihood that they will end up in shopping carts.
Example of a store:
A beautiful example of shelf branding for olive oil is this one in Carrefour, Dubai. Well-chosen earthy colors and a topper suspended from the ceiling strongly attracts attention. It is complemented by artificial greenery, which will support the customer's impression of the offer of a natural and quality product. The educational nature of the display, which is included in the notes next to the individual oils and speaks of the type of production, cannot be overlooked. Dubai itself is a city of spectacular gestures and is full of pomp. And that's exactly what shelf branding is.
Annette Schulze, Dago s.ro.
Source: Marketing&Media