In this year's prestigious SHOP! France Awards (previously POPAI Awards Paris) we have two champions. There were nominated the Sensodyne Nourish shop-in-shop in the Health and Pharmaceuticals Category (cardboard POS) and the Christmas pallet display of Pilsner Urquell...
Rémy Cointreau Whiskey POP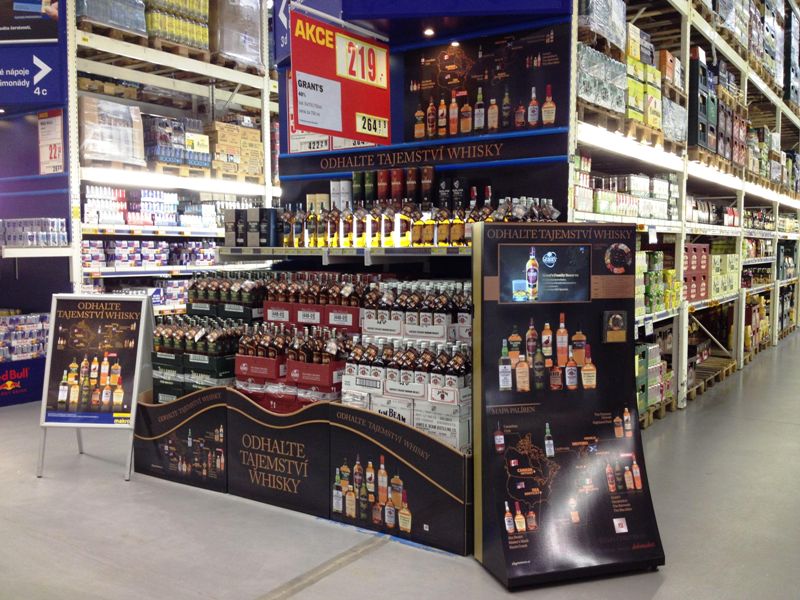 Thanks to our new POP application, Czechs and Slovaks better understand whiskey. The growing segment of sales of spirits from the whiskey category should be promoted by a new POP campaign focused on educating customers. For our client Rémy Cointreau and its customers, we designed and implemented a comprehensive POP campaign using totems with LCD displays and detailed maps presenting particular brands of golden spirits. Generally, these are visually and spatially expressive elements to promote sales of presented products. Except the totem, shoppers will be attracted by for example illuminated display of particular kinds of single malt whiskey.
In our country, whiskey are not just the most commonly consumed spirits. Despite that, this sales segment is growing, and the company Rémy Cointreau Czech & Slovak Republic decided to promote sales using this POP campaign customers can currently see in Makro stores (Metro stores in Slovakia).
The map will explain to shoppers how each whiskey tastes and where it comes from
"Its goal was to increase the awareness of Czechs and Slovaks of the presented brands of spirits," Ivana Plevková, the Trade marketing Specialist of Rémy Cointreau Czech & Slovak Republic, presented the main concept.
"Since we have placed the main emphasis on educating customers, we have prepared, for example, detailed maps with taste description for each whiskey and scheme of their distilleries for them," said Marek Končitík, sales director of our company.
Thanks to the POP implementation, shoppers will learn to better recognize different tastes of marketed whiskey brands and so they will take home the best one for themselves.
Photogallery