Although Halloween is not a typical Czech holiday, it is still a great opportunity for marketers to establish contact with customers in a way they cannot otherwise afford. There are no limits to imagination, and smartly thought-out and amusing POSs can significantly...
Tassimo Floor Displays for Kraft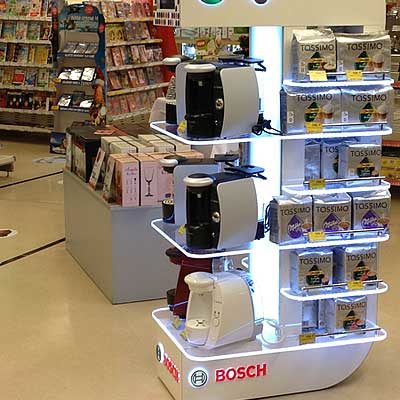 For the sake of our client Kraft Foods, our company designed, produced and implemented luxury floor displays Tassimo on Czech market in November 2012. These POP stands serve to boost the sale of coffee machines Bosch and coffee Tassimo in shops of global retail networks.
The particular shape of Bosch coffee machine had become inspiration for the concept of the floor stand´s design. As construction material, we used LTD sheets with high rate of shine combined with massive plexiglass and LED lighting system. The design of the stand evokes impression of air and ease. The strength of the material used for shelves enables maximization of visual effect by illuminating the shelves´ edges and inserted graphic elements in upper and lower part of the stand. The overall image is enhanced by LCD application of the display, which plays the spot specially created for this occasion in a loop. Such light effects and dynamic spot combined with exclusive visual structure support ability of this POP medium to distract and attract buyers with the goal to convert them to buy presented products. Generally unconventional design of the TASSIMO display underlines quality and unique connection between device of well-known and reliable Bosch brand and favourite coffee Tassimo. Additionally, curiosity of this project lies in its appreciation by experts in this year´s POPAI Awards 2012 competition, where the project won the first prize in one of the categories (Household equipment).
Photogallery