Although Halloween is not a typical Czech holiday, it is still a great opportunity for marketers to establish contact with customers in a way they cannot otherwise afford. There are no limits to imagination, and smartly thought-out and amusing POSs can significantly...
Shop in shop Nikon – Alza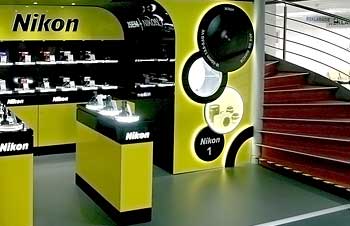 New project – Nikon Shop-in-shop in Alza Our company DAGO introduces a new realisation of a sophisticated NIKON shop-in-shop, which we have produced and installed in the shop Alza Bratislava. While most similar elements are normally located within a space, in this case, there has been used a specific location under a spiral staircase.
This unique solution has been accompanied with a marmolite floor, into which wiring system has been installed, and also with a semi-rounded ceiling with integrated lights. For the actual surveying, there were used 3D devices enabling subsequent 3D simulation of the whole space. Thanks to this unique technology, it was possible to transform subsequently the 3D visualisation into the 100% reality within the manufacturing process. The company Dago involved its new concept, CIS – Complex in-store solution, which respects more than 180 evaluation parameters for creating effective tools of the in-store communication, into this project. It makes it possible to create a shop-in-shop, which we consider to be maximally efficient solution under certain conditions. This efficiency means the shop-in-shop, which aims to attract customer´s attention maximally with the possibility to test Nikon products and relating maximization of sales.