From mid-September, shoppers can meet the new POS displays we have prepared for them in cooperation with the Kofola company at the sales areas of the Albert and Globus chains. Both Ondrášovka and Korunní are gaining attention in Globus hypermarkets as part of the...
Hisense Group presents two new shop-in-shops in the latest Alza showroom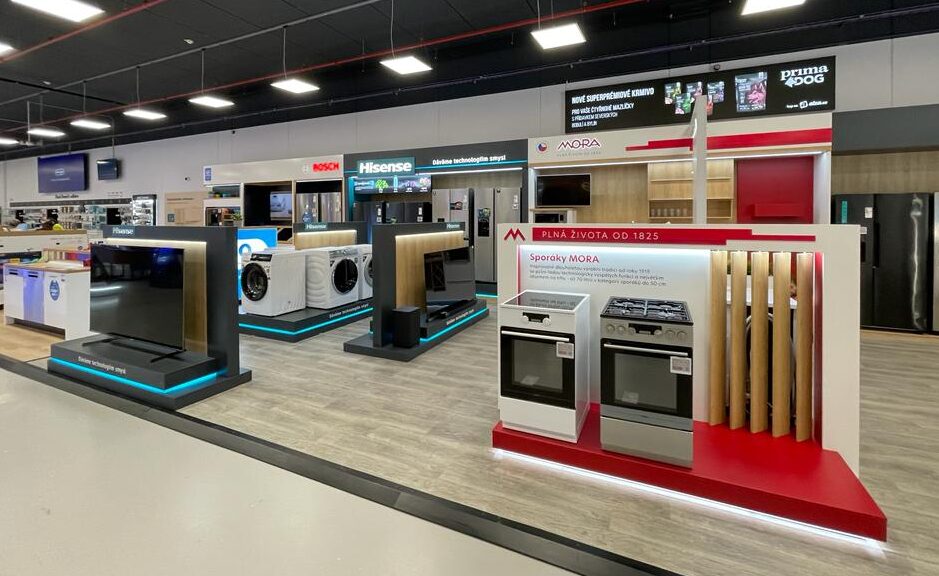 The company, in cooperation with the Dago communication agency, has prepared an interesting project for customers of the Alza showroom in Chrášťany, Prague, which clearly presents white and black goods from the MORA and Hisense brands.
Customers have the opportunity to see Hisense and MORA home appliances and electronics in the sales area.  The whole concept of the shop-in-shop reflects the requirements of the modern market and it is complemented with light parts and real elements, such as flower pots, a wine shop, or kitchen utensils. The whole unit creates a homely atmosphere for the customers and attracts them to view the displayed products.
"In the Chrášťany showroom, which is also strategically connected to Alza's largest logistics center, we have prepared two large shop-in-shops together with the Dago agency. Customers have the opportunity to see the most interesting of what we offer in stylish interiors before ordering goods through the Alza e-shop. Whether these are the new XXL ovens by MORA with clever functions that complement modern hobs with automatic functions, technologically advanced dishwashers, extractors, or other kitchen appliances of this traditional Czech brand," says Regina Netolická, Head of Marketing CZ/SK, and she adds: "The second project with the Dago agency is a perfectly matched smart showroom of the innovative technological brand Hisense. In this showroom, visitors can see not only top TVs and soundbars but also other household appliances – refrigerators, washing machines, dryers, smart vacuum cleaners, and more."
The display is made of several quality materials that can withstand heavy loads. The shop-in-shop design is simple, yet modern, and gives room for the presented goods to attract attention and emphasize its design.
Your Dago team 
OZVĚTE SE, POMŮŽEME I VÁM S PODPOROU PRODEJE A BUDOVÁNÍM ZNAČKY