Wine ranks among the most popular alcoholic beverages of Czechs. In the Albert stores, they are therefore expanding the assortment of the private brand Sommelier collection and presenting it to customers in a new display.
Exclusive promo tables Timotei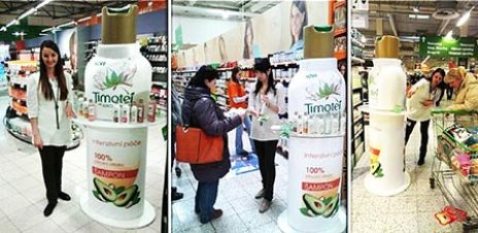 Our company has designed and then produced promo tables Timotei in original design for our customer UNILEVER. Totally non-traditional concept of the promo table uses combination of attractive design with unique technological solution to reach extraordinary visual attractiveness during promotions of the client.
Through the use of non-traditional construction material (polyurethane foam), the promo table uniquely imitates real products and in a store, it actively arouses an interest of customers. When developing promo tables, we also paid a great attention to easy mobility and practicality – easy folding, storage space inside the promo table, special transport containers on wheels. Nowadays, there are carried out promo actions in selected retail chains in the Czech and Slovak republics, which meet with great interest of shoppers as the client informed us.