The producer of the popular Czech beer – Plzeňský Prazdroj - has joined forces with the communication agency Dago. Their joint work resulted in displays in the form of the Jubilee Pilsen Gate and customers could see them in the sales areas of Albert supermarkets and...
Supplier or strategic partner – who will bring a greater value within P.O.P.?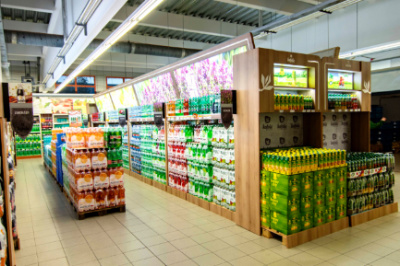 The Czech Republic and Slovak Republic are incredible in the In-store marketing segment. We produce an enormous amount of carriers, we do many promotional activities and we have plenty of stores where people purchase and companies, similar to us, help to sell. Although our market has only 15 million inhabitants, the number of P.O.P. activities increases every year.
But, is the sales effect also growing? Should we always focus only on sales revenue, or should we build a brand? How do we stand in comparison with abroad?
The first positive news is that both countries reflect foreign trends in the field of in-store marketing and often even set them. The second good news is that domestic manufacturers travel around the world to learn to do the best possible work. The third positive is that we often have agile trade marketing departments, which deal with purchasing and marketing at the point of sale on the part of submitters.
Unfortunately, the reality is that P.O.P. solution suppliers are just its manufacturers. We often do many promotional activities without specific goals. There is no time to evaluate, so there remains only a measure of quantity. Both the Czech Republic and Slovakia have many suppliers that reflect this situation. Purchasing departments perceive cheap solutions as effective solutions, what at least doubts their effectiveness towards sales. Clients are satisfied with this, especially due to the weak evaluation of efficiency, so we cannot expect any impulse for a change from them in the foreseeable future.
If a P.O.P. solution supplier is just a manufacturer, he has no need to employ marketers. A marketer is only on the client's side and actually expects a manufacturer to advise him only in the technological and production areas. But how can a manufacturer strengthen a submitter also in the creative and strategic area, if he does not have financial resources, so he does not employ marketers with knowledge of the industry and his goal is in most cases to find a cheap solution? In addition, a submitter often shares only minimal information with him and does not let him to gain insight into a strategy of a planned activity or supported brand.
This results in many cheap P.O.P.-carrier manufacturers in the Czech Republic. Those who could move the category forward are looking for alternative markets for their economic growth and do not want to focus on FMCG. Why? They cannot employ skilled people and devote themselves to their development in such conditions.
Is there a way out? Trade marketers of clients pretend to be interested in advice from suppliers. The strategic partnership is the solution for them. If a manufacturer and a submitter agreed to work together for the next two years, allow fair cost accounting on focus, creativity, graphics, development and sampling, sample installation or evaluation, it would be a miracle.
A capable supplier should have enough space to employ the best managers in the segment. He would help his submitter, educate him, inspire creatively, strategically and procedurally, prepare marketing research for him to verify the effectiveness of a particular P.O.P. activity. He would simply be a partner for him. This trend is common abroad. Submitters are not always looking for new producers. They want their suppliers to develop and grow with them, spend more time with them and help them to move their P.O.P. communications continuously. They focus more on quality with good preparation than on quantity. Every submitter knows what to expect from the project. Although a supplier has to justify his work, he does not have to fight for each project with competitors, mostly in the sphere of pricing. At the same time, however, he realizes that he must meet expectations. It is a combination of submitter´s trust and the huge responsibility of suppliers, which we are not used to in the Czech Republic.
It sounds logical and functional. Why are we not applying such an approach more in the Czech Republic? This is due to the incredibly fast development in the segments such as FMCG, large fluctuations on the part of submitters, inexperience on the part of suppliers, high pressure from purchasing departments that take over some of the trade marketing activities and also a very special, not very positive judgement on Czech suppliers. Marketing departments (not purchasing departments) feel that suppliers just want to capitalize on submitters. On the other hand, suppliers feel that marketing departments have enormous and unrealizable expectations.
Unfortunately, clients do not want to consider the strategic partnership too much. The usual system of purchasing departments, strictly focusing on pricing policy, forces them to do so. Moreover they lack time. They would have to pursue hard and learn other principles; and suppliers as partners could actually outgrow them. This can be a partial threat to a particular person's position in a company. I am also afraid that it will take some time before the described partnership is desired and common here.
Improvement of this situation is not indicated even by the number of competitors, which is gradually declining. Especially number of the big ones is decreasing. They are looking for other sales areas and new markets, leaving the FMCG segment. Thanks to this effect, clients do not have such a choice of suppliers in tenders and must behave more deliberately.
I have been in the field of P.O.P. materials for more than 17 years. Trade marketing directors usually do not have time for their suppliers; they don´t require more from them. The situation is deteriorated also by significantly higher turnover than in the past. I am sad that suppliers have to make a tremendous effort on a demanding tender instead of dedicating them to the effectiveness of the solution and partnering with a submitter.
To make the strategic partnership common, I advise you to slow down! There is no need to create activities in the market that remain without effect. Clients would work with their ATL or BTL agency to develop strategies, but provide P.O.P. solution manufacturers with more information and space within the process of strategic and creative planning. Once they start establishing strategic partnerships, advanced in-store media vendors will emerge in the market to help advertisers move forward.
I live with a great hope that it will be different one day. This process seems to have begun. Large suppliers are leaving some segments. We, who have experience, are aging. We do not have time for tenders and in many cases we do not participate on principle. More demands from abroad are coming. I believe that one day we will come to a place where both submitters and suppliers choose their partners.
Marek Končitík, Dago