Although Halloween is not a typical Czech holiday, it is still a great opportunity for marketers to establish contact with customers in a way they cannot otherwise afford. There are no limits to imagination, and smartly thought-out and amusing POSs can significantly...
Our victory in POPAI AWARDS 2014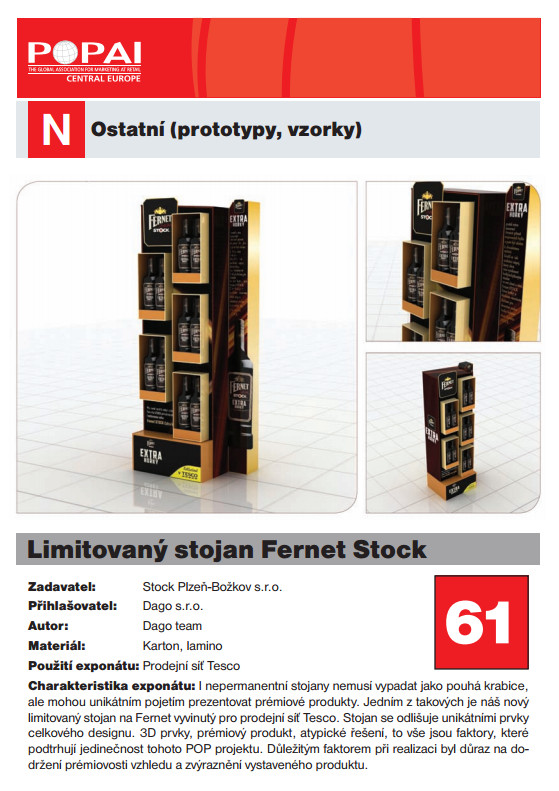 Nine – that is just the exact number of times we won awards for our P.O.P. applications registered for the international competition for the best communication means and advertisements at points of sales POPAI AWARDS. The professional jury was most impressed by the P.O.P. application for Milka that also became this year´s absolute winner. So our company won the most awards compared to all competitors in this prestigious competition.
Awards from POPAI AWARDS 2014
The winner of the category Food, the best material and technical innovation, award for creativity and the absolute winner of POPAI AWARDS 2014. So the Milka end cap, we have realized for Mondelez, won the maximum number of awards at this year´s AWARDS of the association POPAI. "The jury was perhaps impressed by the interconnection of all the senses within the communication with buyers. The end cap is well visible and you can caress a plush head of the Milka cow installed on it. Moreover, the plush head calls your attention to do so, as it moos at passers-by thanks to the motion sensor," Marek Končitík, our Business Manager, describes the winning P.O.P. application.
These awards acknowledge that DAGO goes the right direction 
We won other five awards within particular announced categories. The jury was most impressed by P.O.P. media designed and installed to increase sales of bottles of Jägermeister, Fernet Stock and Becher from Carlsbad and cosmetic products of the company Nivea.
"We deeply appreciate all the awards.  We are glad to see in practice and within competitions that our CIS (Complex In-store Solution) approach really helps to increase revenue and also creates better points of sales and brings added value to customers in the form of shopping experience," Martin Vorel, our Executive Director, adds to this year´s success in this competition.
Thanks to all our clients that gave us the chance to work on projects together and to confirm meaningfull contribution to improved point of purchase.
Your DAGO team