Although Halloween is not a typical Czech holiday, it is still a great opportunity for marketers to establish contact with customers in a way they cannot otherwise afford. There are no limits to imagination, and smartly thought-out and amusing POSs can significantly...
Metaxa home party and pleasant get-together with a Kingswood Rosé cider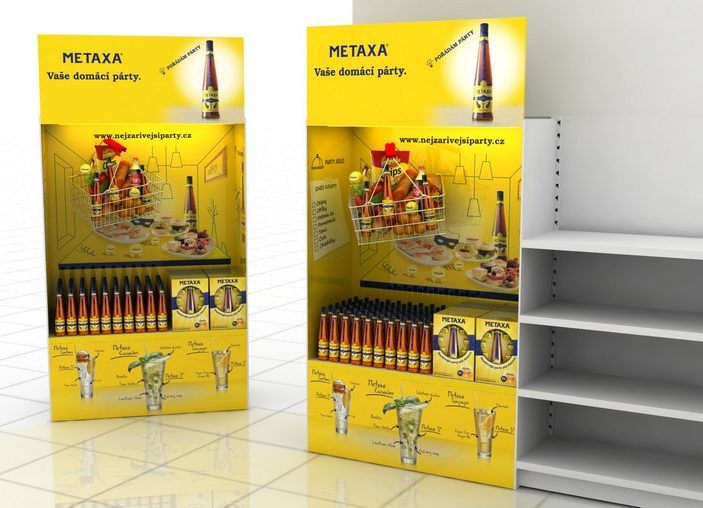 We got an opportunity from our clients to develop and implement just two realizations for products from the alcoholic drinks category into stores. One of them is an original shelf Metaxa module advising customers how to create a great home party. The other is a 4palette exposure for a new Kingswood Rosé cider evoking an atmosphere of relaxation with benches.
"In recent years, we are witnessing a shift of preferences when consuming alcohol from bars towards home parties. The Metaxa brand took a liking to this trend and on a long-term basis, provides customers with advices how to enjoy a perfect home party. So the display is supposed to attract and encourage customers to purchase a whole solution of their home parties," says Ivana Plevková, the Trade Marketing Specialist of the company RÉMY COINTREAU.
The goal of the in-store activity using the shelf module was to inspire customers by a more comprehensive assortment offer for a single moment of consumption. Achieving this by using a shopping cart located directly in the middle of the module. Its content includes typical ingredients such as crisps, baguettes, soft drinks, but especially bottles of Metaxa. "In the background, there is even graphically illustrated the whole menu for the party table where the emphasis was placed on choosing photos of real meals to evoke an appetite to organize a party. Everything is supported by a distinctive yellow colour and LED lighting at the top of the display," adds Miroslav Obrátil from our company that make the resulting realization.
We focused on the originality also in the case of the realization for Pilsner Urquell where we provided the complete production of new Kingswood Rosé cider launch solution. We prepared a 4palette exposure with a distinctive element of a real wooden bench for customers. "We wanted to create a final display being mainly in compliance with the overall brand communication and helping to bring a peaceful atmosphere of the Kingswood world into the store environment" explains Oliver Jáchymovský from Pilsner Urquell. The creative agency Addict provided the creative proposal for introducing the new drink variant.
The 4palette display was one of the first elements of the whole concept of the secondary exposure including also an end cap branding, displays and others. The whole exposure is made of cardboard including the 3D spreading tree except the wooden bench. "The main requirement for the realization was mainly the endurance of all elements," adds Radka Hejduková, the Project Manager of our company. As a part of the installation, there must be also a sufficient supply of bottles not to limit their purchase.
Your DAGO team