From mid-September, shoppers can meet the new POS displays we have prepared for them in cooperation with the Kofola company at the sales areas of the Albert and Globus chains. Both Ondrášovka and Korunní are gaining attention in Globus hypermarkets as part of the...
Electrotechnical innovations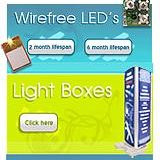 We have launched functional and affordable electro-technical and electronic parts, which can be integrated into traditional POP means, into the market.
We talk about motor components ensuring movement or rotation, special sets of powerful LEDs with a long-term operation powered by miniature accumulators and sound generators activated by a button or photocell. These parts have been developed specially to be applied on POP media. These are affordable, resistant and dispose of long-term functionality with minimal electric power supply requirements. For our clients, we flexibly design concrete applications for traditional means or custom-made design solutions.
Photogallery