This year, as part of the sales expositions, Mattoni bet on original iridescent displays and pallet displays.
Electrotechnical innovations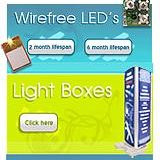 We have launched functional and affordable electro-technical and electronic parts, which can be integrated into traditional POP means, into the market.
We talk about motor components ensuring movement or rotation, special sets of powerful LEDs with a long-term operation powered by miniature accumulators and sound generators activated by a button or photocell. These parts have been developed specially to be applied on POP media. These are affordable, resistant and dispose of long-term functionality with minimal electric power supply requirements. For our clients, we flexibly design concrete applications for traditional means or custom-made design solutions.
Photogallery