Although Halloween is not a typical Czech holiday, it is still a great opportunity for marketers to establish contact with customers in a way they cannot otherwise afford. There are no limits to imagination, and smartly thought-out and amusing POSs can significantly...
Demo Units Samsung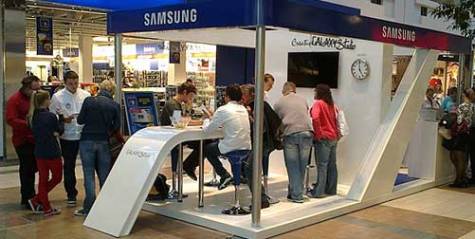 Samsung Company and its subsidiary agency Cheil (represented by Mr. Kamil Kaliszan) have realized three special demo units for presentation of the newest tablets Galaxy Note 10.1 Samsung in extremely short time due to close cooperation with our company.
Whole demo system consist from mobile units, which will be relocated by DAGO assembling teams in approximately week periods throughout shopping centers of Czech and Slovak Republic during October and November. These stands have been produced and installed in one week. For the production we have used wooden, aluminium, and plastic components; banners have been applied as decorative elements.
Dimensions of the stand are 10 x 4 x 3.5 m and the construction stands only on four carrying fundaments. The overall impression of high-quality processing and neat exposition demonstrates precision of the Samsung product portfolio.
The goal of this visually expressive, predominant in space and surely attractive demo unit in the style of supporting brand name is to acquaint customers with new Samsungs Galaxy Note 10.1 products and ultimately support their sale.
Photogallery