From mid-September, shoppers can meet the new POS displays we have prepared for them in cooperation with the Kofola company at the sales areas of the Albert and Globus chains. Both Ondrášovka and Korunní are gaining attention in Globus hypermarkets as part of the...
The JOJO realization won the POP STAR Award of February 2021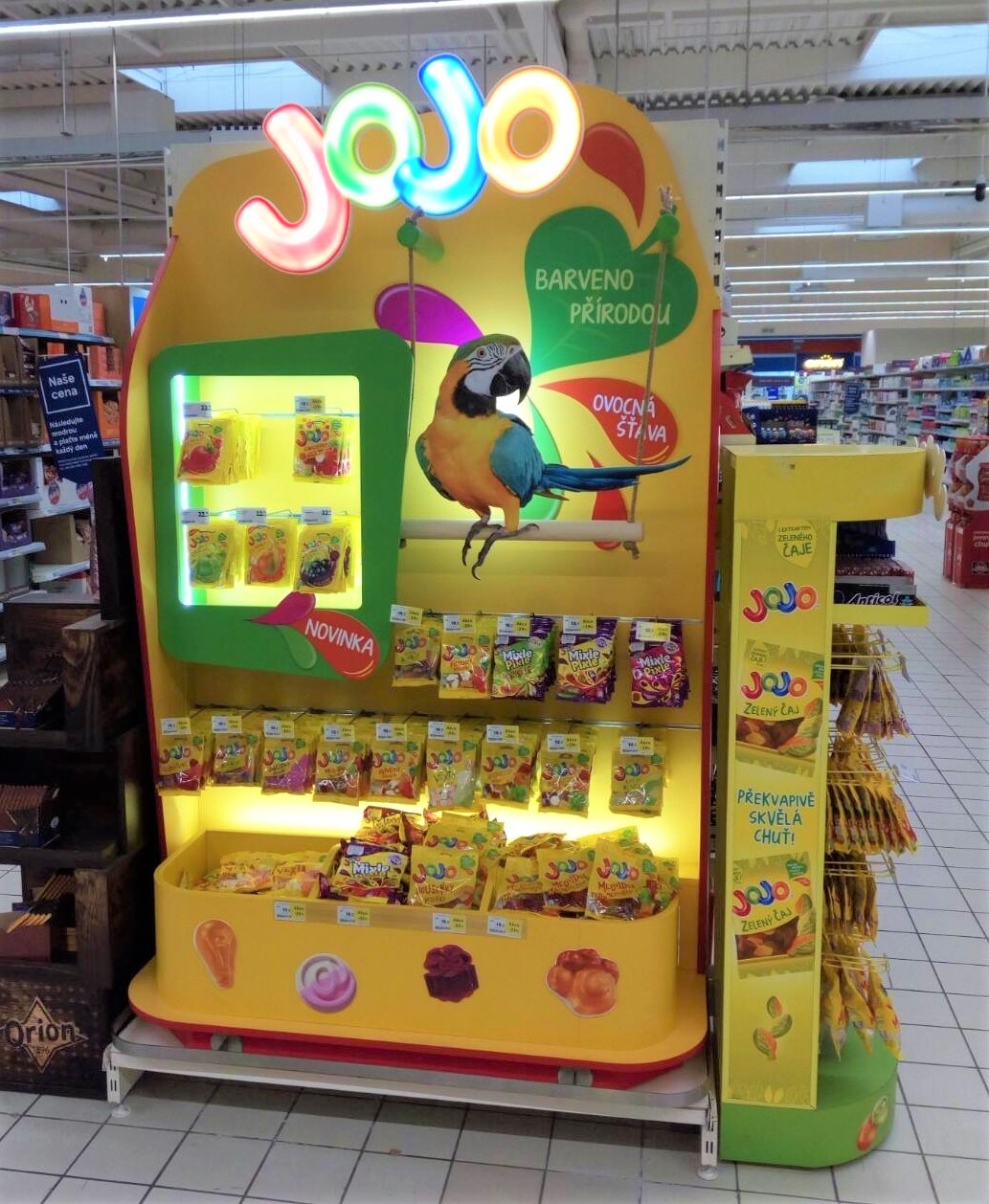 The Mistoprodeje.cz portal announces a new winner of the POP STAR competition. The winner for February was the realization of JoJo.
This month, 10 In-store realizations entered the competition, and the jury evaluated them again according to three following criteria: creative processing, overall production design, and the potential to attract attention at the point of sale.
In this round of the competition, the JoJo campaign won. The creative agency and implementer was the company Dago, s.r.o., and the client was the company Nestlé Česko s.r.o. This realization was exhibited in February within the Tesco retail chain.
An expert jury awarded the winning realization an overall rating of 7.93 points out of the maximum 10 points. In the category of creative processing, the realization received 7.5 points, in the overall production design, it received 8 points, and in the potential to attract attention at the point of sale, it was even 8.3 points.
For the first time in the history of the entire competition, we are also announcing the realizations that won the second and third positions.
A Pedro realization won the second position in the February round. The submitter and client of this realization, which was exhibited in the Albert retail chain, is The Candy Plus Sweet Factory s.r.o.
A realization of a four-palette display Stock Božkov Republica, customers could see in the Kaufland retail chain, won the bronze medal, and thus the third position. The client and submitter was the company STOCK Plzeň-Božkov s.r.o. The creative agency and implementer was the company Dago, s.r.o.
All the February competition realizations were evaluated by a jury of four people. The jury members were:
JUDr. Petr Majerik – the ex-director of several media agencies, representative of the University of Creative Communication, consultant for marketing and media; doc. PhDr. Jitka Vysekalová, Ph.D. – the President of the Czech Marketing Society (ČMS) and independent consultant in the field of market psychology, marketing communications, and qualitative market research; Václav Koukolíček – the External Communications Manager of TESCO Stores ČR for retail chains; and Ing. Alexandr Stojčev – the company Momentum Czech Republic, nominated for the AKA Activation Agency.
Evaluation of the winning realization
"Cheerful, playful, it impresses with its colors and fits into the overall communication strategy of the product," says Jitka Vysekalová, the President of the Czech Marketing Company, evaluating the winning realization.
"Nice design, I appreciate the colorfulness, I'm just not sure about the selection of Bohemians candies :-)," says Václav Koukolíček from TESCO Stores ČR.
"A hundred times one can promise not to buy any sweets again, and then go to the store, see a similarly tempting display and again there are several packages of sweets in the basket," says Alexandr Stojčev from Momentum Czech Republic. "It's going to be pretty hard to lose weight like this … Visually great, hitting the target group too."
Source: www.mistoprodeje.cz
OZVĚTE SE, POMŮŽEME I VÁM S PODPOROU PRODEJE A BUDOVÁNÍM ZNAČKY