From mid-September, shoppers can meet the new POS displays we have prepared for them in cooperation with the Kofola company at the sales areas of the Albert and Globus chains. Both Ondrášovka and Korunní are gaining attention in Globus hypermarkets as part of the...
Parrot and hologram! JOJO presents itself with colourful displays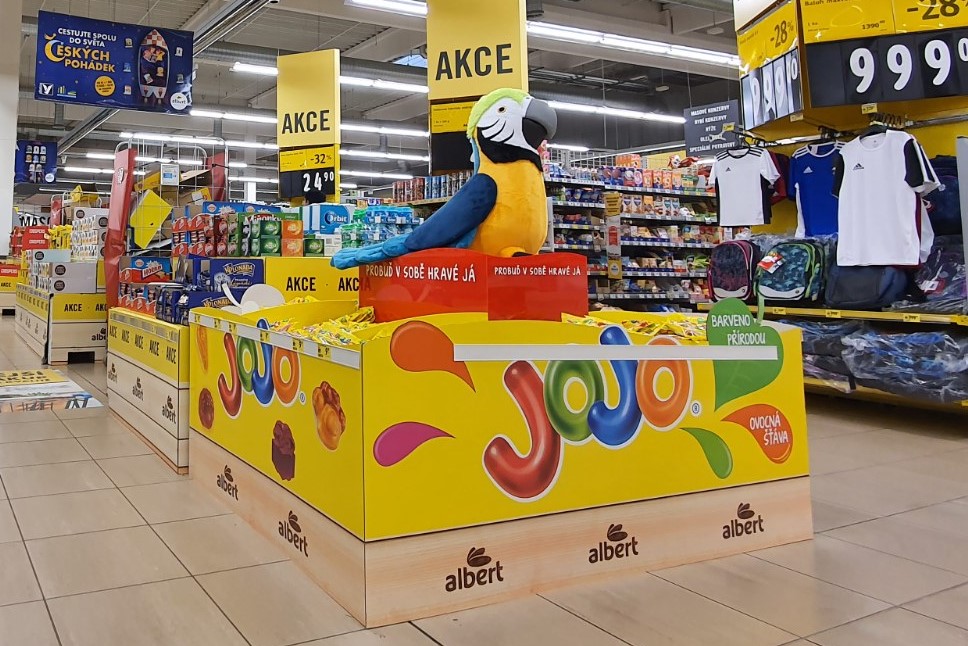 These days, JOJO confectionery hardly escapes the attention of most shoppers. For its promotion, we have produced two types of pallet displays you could currently see in selected stores. The first one presents the brand using a hologram; the second one has a plush parrot that lures shoppers.
Nestlé, which sells JOJO candies in the Czech Republic, took this opportunity to test which of the POS elements works better. "We were looking for a way to attract shoppers in the most attractive way possible. That's why we decided for a more traditional type of display with a charming plush toy and a more modern one with an innovative hologram," explains Anna Růžičková from Nestlé, who is in charge of this project.
After placing the pallet displays, it turned out that both ways were the right choice. "Children stop by the plush parrot to stroke it. The hologram, in turn, visually attracts the attention of children as well as their parents," describes Anna Růžičková.
The plush toy and holographic projection will also attract attention
The hero of both exhibits is a macaw parrot. People know him from TV commercials and other POS materials prepared for the in-store promotion over the last two years.
The first type of pallet island is dominated by a 70cm plush macaw, which we worked out to the smallest detail. At the bottom of the shelf, the appetite for candies is being stimulated by a colored whipping. It also occurs in the second type of display with a hologram, which is a visually attractive and modern POS element that will be noticed by almost all passers-by.
The holographic panel surprises by playing a commercial video spot with the parrot. We have also provided it with 3D hanging elements and a light logo that further increase the visual attractiveness of the pallet display.
Pallet islands were made in the number of several dozen pieces. They are intended exclusively for Albert chain stores. "From the first day of installation in stores, sales representatives report great satisfaction to us. Also, given the positive reactions of customers, I can say that the displays meet our expectations. We are also waiting for sales results and the results of our research, how such an attractive display will affect shopping behavior in stores," concludes Anna Růžičková. Following the customers' feedback, it was well appreciated by experts, too. In the POP STAR competition of the Mistoprodeje.cz portal, it won 1st place and became the realization of the month.
Your Dago Team
OZVĚTE SE, POMŮŽEME I VÁM S PODPOROU PRODEJE A BUDOVÁNÍM ZNAČKY