This year, as part of the sales expositions, Mattoni bet on original iridescent displays and pallet displays.
Nescafé Dolce with a customized mix of capsules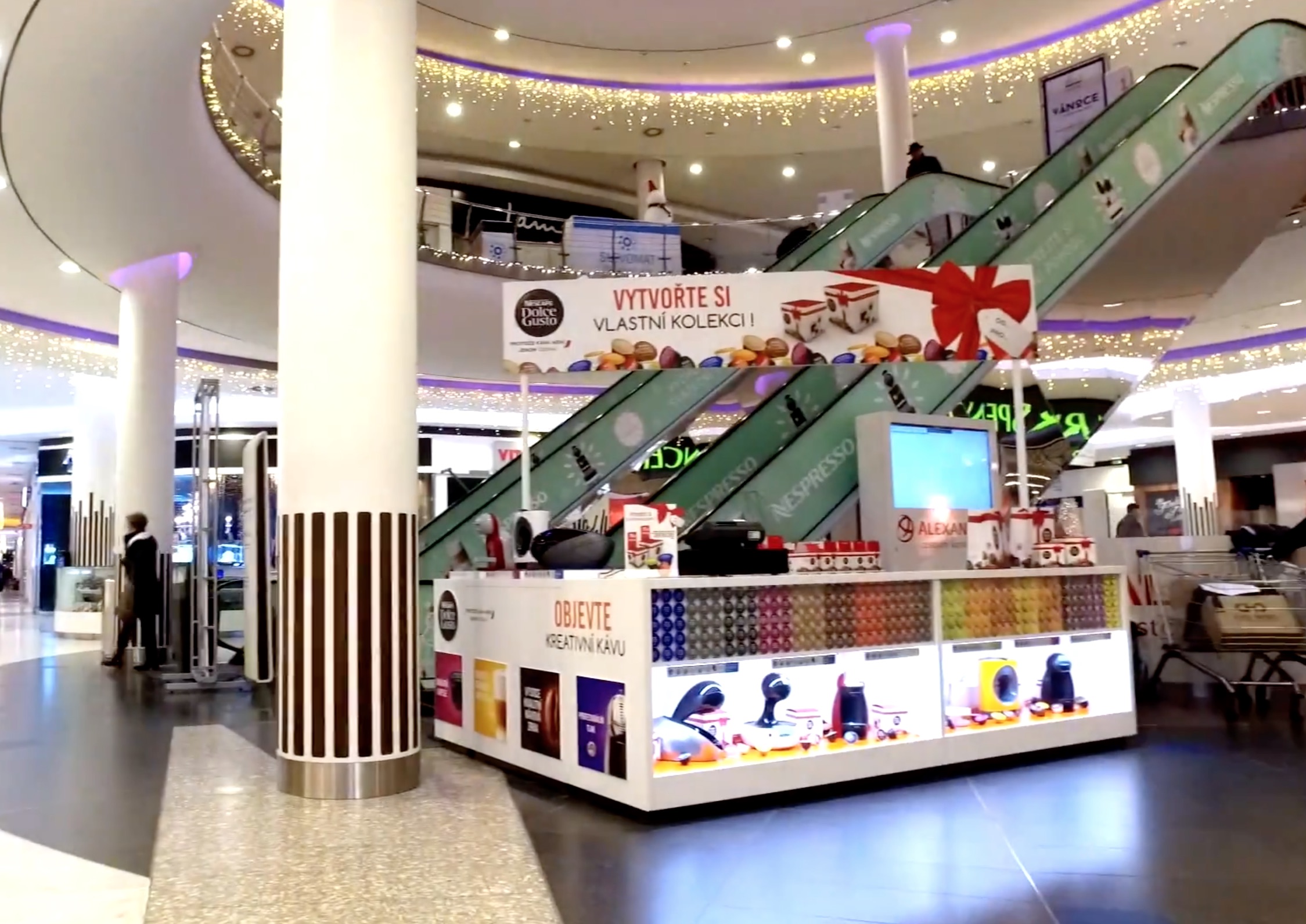 The company Nestlé, in co-operation with our company, prepared a possibility for favourers of Nescafé Dolce Gusto coffee to create own collection of capsules to their taste in a unique pop-up store, where customers can choose and combine 17 kinds of Nescafé Dolce Gusto coffee themselves at will.
"We wanted to provide our customers with the opportunity to create a set of capsules to their taste and perhaps get to know other kinds of drinks they have not yet tasted. Moreover, the box has a special gift design so that customers can give the resulting selection to their relatives or friends," explains Michaela Gilarová, the Channel Development Manager of Nescafé Dolce Gusto from the company Nestlé.
Our DAGO team was in charge of the design and realization of the display itself. The objective was mainly to create such a pop-up store where shoppers quickly tune themselves to the iconic brand, orient and easily choose. So we had to design a sufficiently big, attractive and original space to display all products.
For this purpose, we prepared a unique mobile unit for Nestlé, where customers can buy their own mixed collection, but also to see the existing portfolio of coffee machines, including novelties with touch-screen operating, and they can try the simplicity of the whole system.
They can choose from two variants: a standard package of 16 capsules or a big package of 32 capsules. They can choose from 17 different variants of capsules to combine them into their own collections. Finally, shoppers get small gifts with their resulting mixtures.
Thus the company Nestlé has successfully tested the use of a mobile pop-up concept for its modern communication and sales promotion of its brand Nescafé Dolce Gusto, thanks to which it can flexibly approach its existing and potential customers. This approach comes from the trend of product personalization and pop-up retail strategy. At the stand, which shows also coffee machines besides capsules Nescafé Dolce Gusto, there are hostesses to help with selection. So customers can easily select coffee according to their taste and take it immediately in gift packs. Nescafé Dolce Gusto pop-up store waits for its customers in OC Nový Smíchov across from the Datart store until the end of January.
Your DAGO team