This year, as part of the sales expositions, Mattoni bet on original iridescent displays and pallet displays.
Globalshop Las Vegas 2017: top class traditional solutions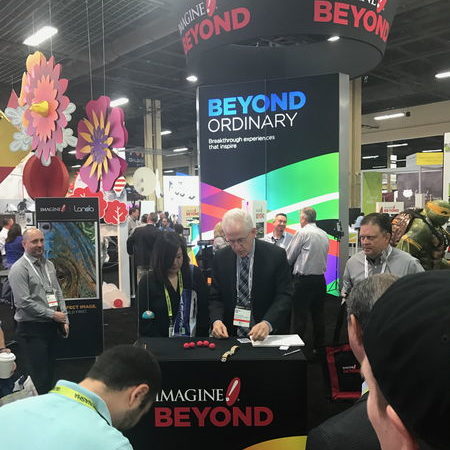 25th Globalshop Las Vegas 2017 (www.globalshop.org) was organized in the spirit of "Experience Defines You"; so the customer experience was traditionally the priority.
Compared to Euroshop Düsseldorf, this U.S. Trade Fair was less futuristic with less robots (it wasn´t possible to awake even the only one we saw) and the whole space used less projections and more top-class analog solutions. Display stands were more modest but still enriching as to their content.
Staff at the Trade Fair, with unusual number of seniors, was decently active all the time demonstrating that Americans are much more advanced within the interpersonal interaction, the skills to address customers as well as leaving them enough space. They did not push, but just lured; and not only at the Trade Fair but also in stores and on the street.
The reasons of crowds of visitors at the stands were not only modern technologies, but skilled employees, as we experienced, for example, at the stand of the Image! brand, where a magician demonstrated his magic tricks to visitors and just by the way he also presented an offer of the company. When he let a watch of one of brave volunteers to disappear, he also described retail services aimed at saving time of shop assistants.
Another specificity of the U.S. market is its size, which allows creation of very specialized offer of companies. So that we should not be surprised that there exists a company supplying chains for retail, either as equipment or aesthetical accessory or for price tags and for plastic rack banners being well thought out.
Within the presented realizations, we were interested by for example a self-service dispenser by Pedigree that can be placed by a newsstand or in a veterinary waiting-room. All you have to do is just to insert necessary amount of money, set the amount and your pet gets its portion.
Another novelty was a smart end cap with a LED technology, whose content on its facing and toppers is controlled remotely. It also has a built-in camera with an app which is able to recognize subjects and people. It can also monitor goods replenishment in shelves, and after identifying gender and age, it adapts the played content and collects data about people approaching the end cap, how much it sold and when.
Americans also showed their skills working with cardboard. They can produce original and eye-catching displays from this material, for example a 3D shark, a motorbike, a carriage with barrels or a fireplace.
Your DAGO team
Photogallery