We realize that if we are successful, we must not be indifferent to the weaker ones and must not forget them. If we can do something for them, then we should take it for granted.
DAGO contributes to a number of charity org…
CHRISTMAS SUMMARY: HOW DAGO SUPPORTED CLIENTS AND THEIR BRANDS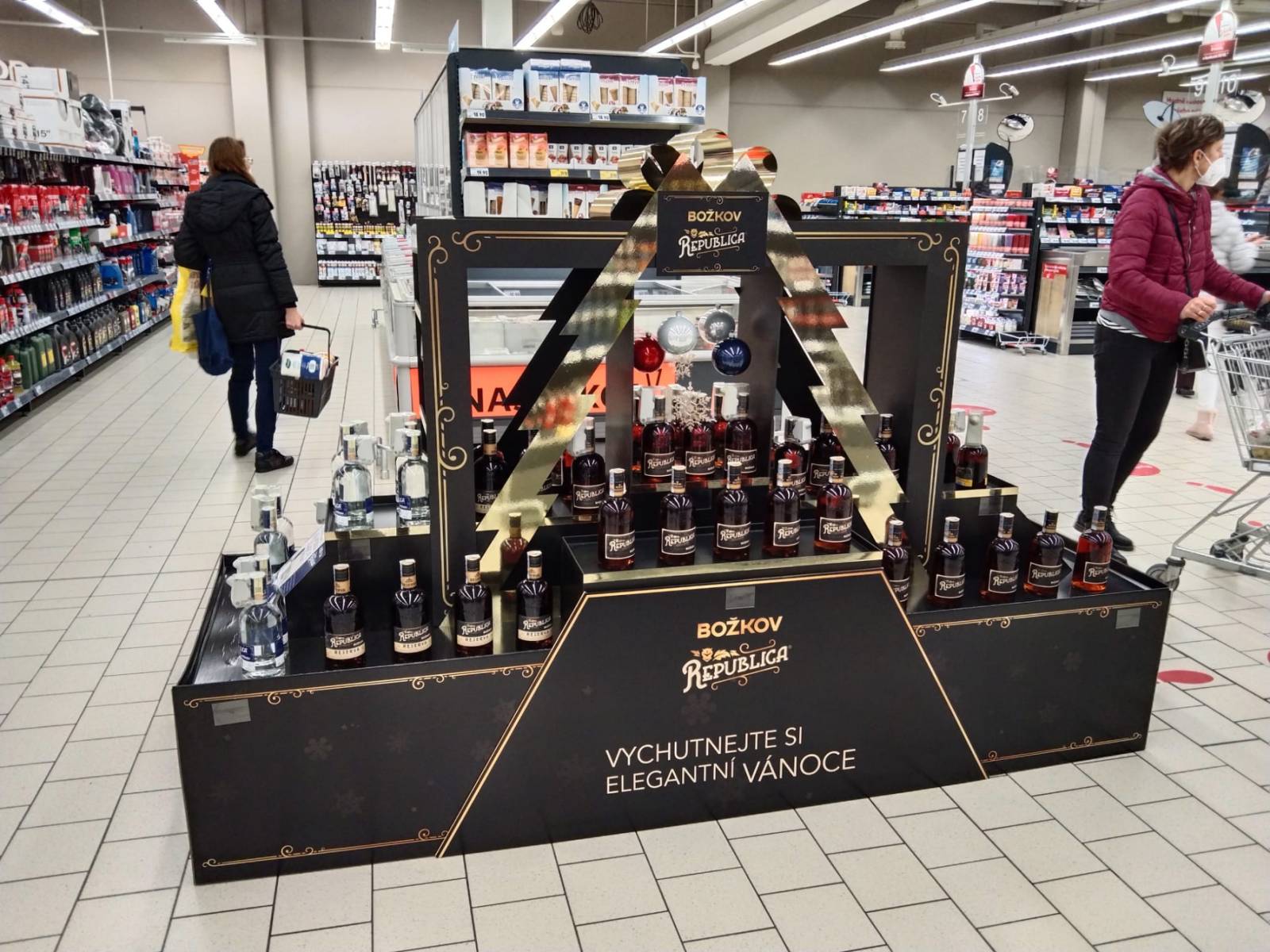 Pre-Christmas time is absolutely crucial when it comes to selling anything. It is also a time when the best displays are created with the goal to attract as many shoppers as possible. How did Dago deal with this?
For the alcoholic beverages segment, Dago created a two-pallet display for Stock Plzeň a.s., which offered all rums and rum liqueurs from the Božkov Republica family. In the pre-Christmas time, the shop-in-shop settled elegantly not only in the Czech but also in the Slovak Kaufland stores. The black forex construction, complemented by elements made of a gold foil was decorated with a large gold ribbon, which attracts attention from a distance. The display will attract customers particularly with its decency.
For Brown-Forman Czechia, s.r.o., a dynamic display was created, which easily combined two visually completely different brands – Finlandia and Jack Daniels. The Christmas atmosphere was evoked by LED lighting and a dominant centre panel.
The beer segment is another very popular Christmas shopping category, which deserves quality POP display. For Plzeňský Prazdroj Slovensko, a.s. and their flagship brand Pilsner Urquell, Dago prepared several types of displays, dominated by a single-palette display with an iconic entrance brewery gate. This shop-in-shop was complemented by Christmas lights and gift ribbon on bottles. This cardboard realization appeared in the top 20 Tesco stores and its simpler version could be found in 80 Kaufland stores and also on the traditional market.
The festive visual proposal of the Zlatý Bažant brand was developed into a realization, which was stylishly complemented by the illumination of the Christmas chain on the tree and the brand logo to achieve the right atmosphere.
And how did Dago cope with the non-alcoholic segment? The Mattoni brand appeared in stores in cardboard half-palette and single-palette displays, which offered customers drinks in a sufficient amount in both PET bottles and cans. The whole display was in the shape of a Christmas tree.
And we could not forget HoReCa (on-trade). For Coca-Cola HBC Česko a Slovensko, s.r.o., Dago prepared a life-size model of iconic Santa Claus. The cardboard realization welcomed customers at the entrance to selected outlets.
OZVĚTE SE, POMŮŽEME I VÁM S PODPOROU PRODEJE A BUDOVÁNÍM ZNAČKY